CNC MACHINE TOOLS: WHAT ARE THEY AND HOW DO THEY WORK?

Computerised numerical control has forever changed the way industries work.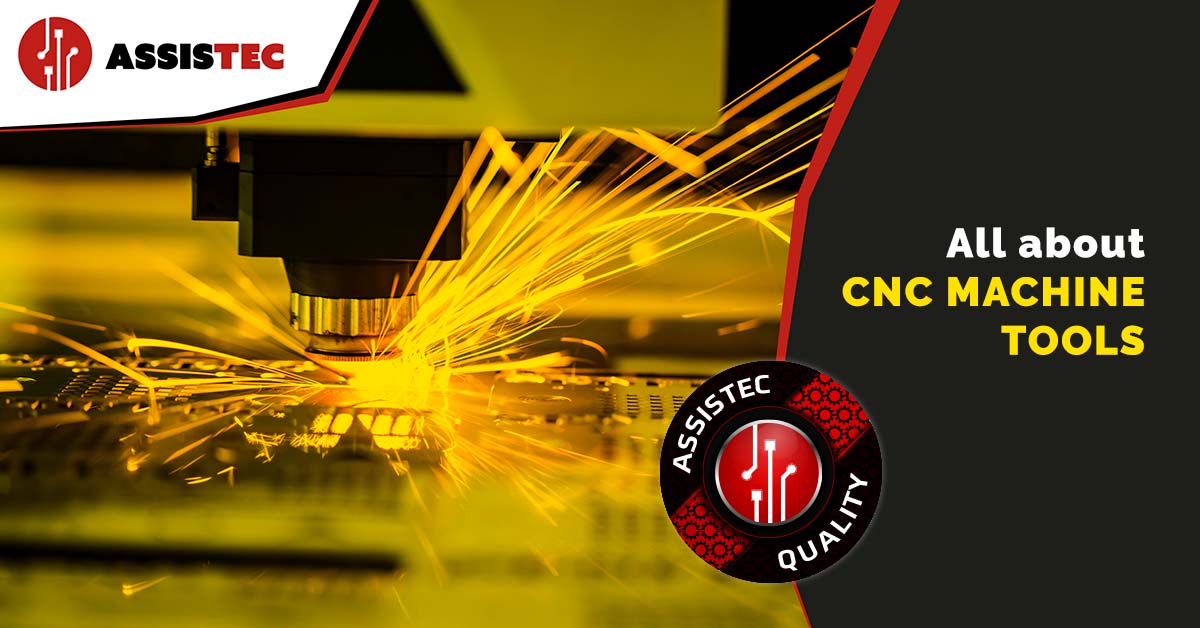 Perfect for performing high-precision, repetitive tasks and relieving humans of dangerous and tiring tasks, CNC machine tools are at the heart of the fourth industrial revolution, also known as Industry 4.0. Their use in smart factories increases productivity and reduces manufacturing times. Many people still confuse them with robots, but they are very different technologies. While robots are able to adapt autonomously to changes in the workflow, the movements of CNC machines are pre-set.
Every action is decided and controlled by means of integrated software. Hence the acronym "CNC", i.e. Computerised Numerical Control. It is equipped with an internal digital device that makes it possible to memorise the functions performed during machining. Keeping track of the operations allows the machine to adapt to production requirements. Although it is not essential for its proper functioning, operator supervision is useful for setting the machining program, preparing the materials to be handled and intervening in the event of malfunction.
Applications of CNC machine tools
CNC machines guarantee efficiency and safety. Starting from raw materials (wood, iron, plastic, metal, etc.), they are able to create different kinds of objects, ranging from designer chairs to high-precision mechanical components. Given their extreme versatility, there are different models of CNC machines, suitable for every need according to the type of production or the material to be machined. The most classic ones are: the CNC lathe, CNC drilling machine and the CNC milling machine.
Cutting, shaping, stitching and measuring are just some of the many operations that CNC machine tools can perform. This is why more and more production companies have decided to integrate this technology into their machine park, such as metalworking companies, manufacturing companies, tailoring companies, etc.
Anatomy of a CNC machine tool
The functionality and flexibility of the movements of a CNC machine varies according to the degree of freedom, i.e. the number of moving axes, which determines the inclination of the tool with respect to the working surface. The most common CNC machines are: 2-axis, 2.5-axis, 4-axis or 5-axis. But there are also 3-axis, 8-axis or 10-axis.
Generally speaking, a CNC machine consists of:
Encoder

, which is responsible for monitoring the movement and position of the axis on which it is mounted, transmitting the data to the central computer;

Electric motor, which controls the movement of the axes;

Drive, which triggers and controls the movement of the machine's motors;

Computer, the actual "brain" of the machine, which runs the work program after receiving data from the encoder and instructions from the operator and the program. It is divided into two parts: one inside the machine and one outside in the operating console.
Does your CNC machine need servicing?
Mantenere efficiente e produttivo un parco macchine utensili CNC significa anche attuare regolarmente check up meccanici ed elettronici. Questo permette di rilevare eventuali malfunzionamenti che necessitano di una pronta revisione.
Keeping a CNC machine tool park in efficient running order also means carrying out regular mechanical and electronic check ups. This allows you to detect any malfunctions that need to be repaired.
Assistec's team of highly specialised electronic engineers and technicians can immediately measure your machine's performance using state-of-the-art instruments. In the event of a breakdown, it will be up and running again in no time, thanks to the response speed of our repair laboratory. Avoid machine downtime with fast and professional check-ups by Assistec! Call us on +39 0522 989436 or ask for more information here.
Recent Posts

The collaboration of Assistec with SCHUNK resulted in the Robofeed Flexi-RC2 line, a modular robotic island that can serve up to three machine tools.

A dynamic company that offers technical, electronic and mechanical support for machine tools, as well as spare parts, repairs and robotic automation systems. Massimo Mora, Sales Manager of Assistec, tells us about it.

We are the ideal partner for your business, a company that has been operating for more than twenty years in Reggio Emilia, in the heart of robotics and industrial automation.