INDUSTRIAL AUTOMATION: ADVANTAGES FOR COMPANIES

More and more companies are using robots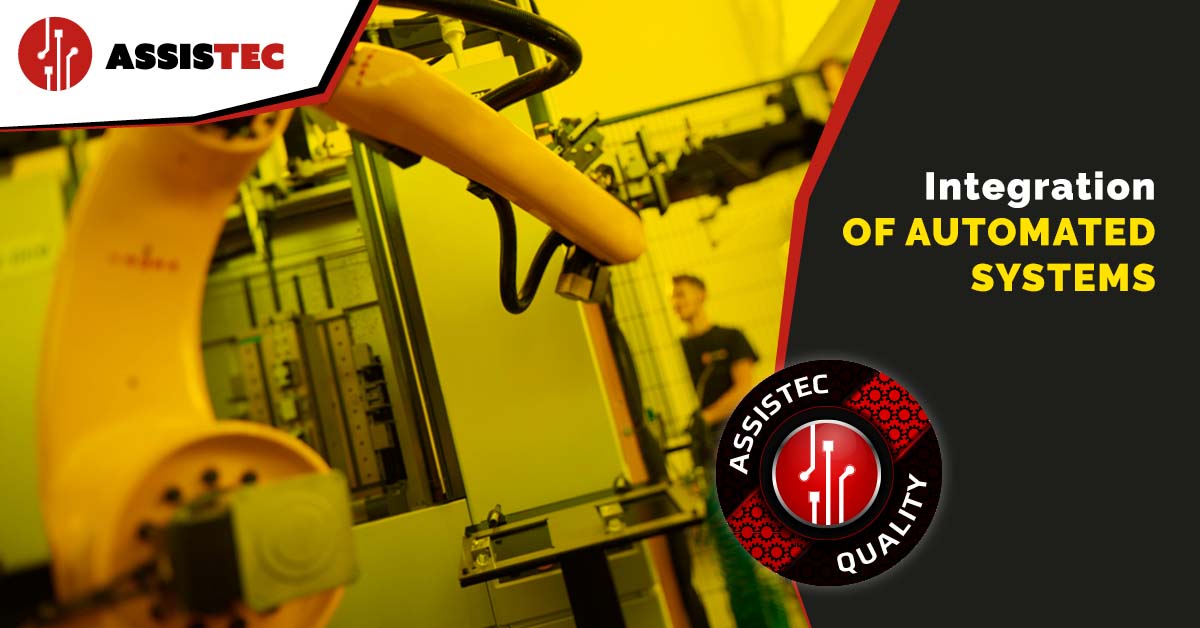 From welding to assembly, from machining components to loading and unloading of goods, there are countless ways of applying robots and machine tools in industries.
The advent of automation in business processes has marked the beginning of a new era, and there is even talk of a "fourth industrial revolution" or, more specifically, Industry 4.0. This ever-evolving phenomenon can facilitate the digital transformation of companies, bringing them closer to the smart factories of the future. Robots and machine tools are flexible tools that can be applied to an infinite number of operations.
Industrial automation makes us more efficient by increasing production. Human supervision is reduced to a minimum, relieving workers of dangerous and tiresome routine tasks, but the need for highly qualified personnel, such as electronic and mechanical engineers, becomes more important. The integration of robots, machine tools and robotic islands ensures consistently high performances and increased efficiency, reducing the margin of error. Industrial automation offers many advantages, here are just a few:
Unlike humans, artificial intelligence can perform multiple tasks at the same time, thus shortening production times. Regardless of whether the tasks are repetitive and tiring, requiring hours or days, the job is always completed efficiently. The machine's production pace perceptibly exceeds the speed of manual processes, thanks to consistent, high-level performances.
Guaranteed reliability and quality
Industrial automation significantly reduces the risk of gaps and errors often caused by manual processes. Product quality improves, reducing personnel costs. Moreover, thanks to the latest generation software and digital programming, it is possible to determine the duration of processes, organise the workflow and make predictions on the reliability of results.
The growth in demand for high quality goods, closely linked to population growth, has led to mass production. This obviously also led to a dramatic increase in occupational hazards for workers, with exhausting production rhythms and risky tasks. The systems introduced by industrial automation, on the other hand, are able to relieve humans of these tasks. Workers in smart factories become specialised resources for monitoring and servicing robots and machine tools, leaving them with all those tasks that involve greater risks
Automated systems are much more accurate and precise than humans. This allows companies to make 100% use of raw materials, thus considerably reducing the amount of waste. More efficient use of raw materials means less production waste and therefore lower disposal costs.
Discover the advantages of industrial automation with Assistec.
Assistec's technical assistance and

system integrator services

, makes industrial automation easier and more profitable. The experience of our highly specialised electronic and mechanical engineers guarantees the optimisation of production processes and interfacing between robots and machine tools. We take meticulous care in all phases of

design, manufacture, and installation

of robotic islands.
A winning factor at Assistec is the analysis of

the company's production cycle

, in order to create custom designed systems. This offers flexibility and autonomy to robots and machine tools, avoiding constant operator intervention. We believe that industrial automation is the key to Industry 4.0.
A smart factory where humans are digitally interconnected with electronic and mechanical systems
Recent Posts

The collaboration of Assistec with SCHUNK resulted in the Robofeed Flexi-RC2 line, a modular robotic island that can serve up to three machine tools.

A dynamic company that offers technical, electronic and mechanical support for machine tools, as well as spare parts, repairs and robotic automation systems. Massimo Mora, Sales Manager of Assistec, tells us about it.

We are the ideal partner for your business, a company that has been operating for more than twenty years in Reggio Emilia, in the heart of robotics and industrial automation.